The scenic Manifold cycle track winds its way through the picturesque valleys of the rivers Hamps and Manifold. It follows the route of the former Leek and Manifold light railway, which closed in 1934, leaving a legacy of a flat, traffic-free track for cyclists walkers and horse-riders.
Simply click in any of the red boxes to find out about each area.


| | |
| --- | --- |
| | Only ten minutes down the track is Lee House tea rooms, so if you're tired already stop here for tea and a tasty cake. It will probably be more inviting on the way back though! |

Home of several village centre farms and a local pub, the Old Royal Oak Inn, which hosts the World Toe Wrestling Championships on the first weekend in June!
back to map

Four miles along you come to the imposing Thor's Cave. The cave was home to stone-dwellers and wild animals for at least 50,000 years. The bones of mammoths, giant bears and rhinos have been found nearby so keep your camera handy - there may still be some about....
The cave was created thousands of years by water erosion ago when the climate was wetter (is this possible?) and can be explored safely.

| | |
| --- | --- |
| | Another good place to stop, enjoy a drink or an ice-cream and rest your weary buttocks whilst the kids can play in the stream. You're over half way there now! |

For those seeking a more energetic ride why not struggle up the hill into Grindon Village. At the heart of this tiny village is the imposing All Saints church, known as "The Cathedral of the Moorlands", as well as a village pond
Inside the church is a memorial to airmen and journalists who died when a plane carrying relief supplies to the village during the severe winter of 1947 crashed into nearby Grindon Moor. The church also houses the remains of its Saxon predecessor, stone coffins and an ancient font.


A regular winner of the local "Best Kept Village" award, the village was re-modelled and rebuilt by the wealthy Harpur Crewe family in Georgian times. The village is also served by a village shop and the friendly Greyhound Inn.
back to map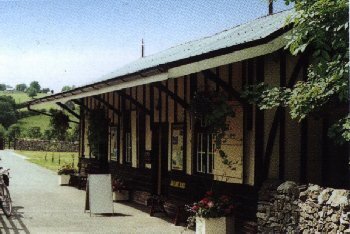 If you make it all the way to the end of the track then why not have a look round the visitor centre. Housed in the old Hulme End Station, information panels outline the history of the railway, the industries and communities it served, the limestone landscapes and the rich natural history which characterise the valley. A range of books, maps and leaflets are also available.
back to map

| | |
| --- | --- |
| | The best way to celebrate reaching the end of the track (before pedalling back of course!) is with a bite to eat and a refreshing drink at the Manifold Inn at Hulme End. There is also a busy village shop and a few hundred meters south is Apes Tor. |